Greetings! Step Inside!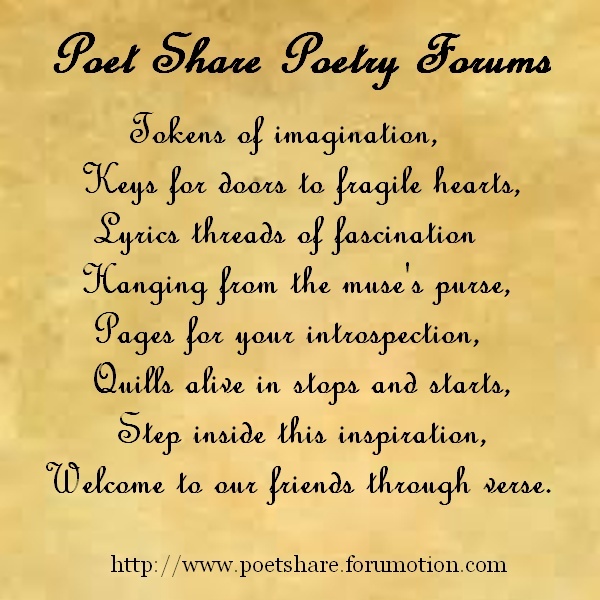 Had We But Worlds Enough, And Time . . .
November 5th 2013, 11:57 am by Jamie
I never wanted to write this post.  Life, however, brings to us changes of necessity, not changes we want.

Unfortunately, and as evidenced by the past few months' activities, I do not have the time to properly govern the use of this site anymore.  While there are visitors every day, the posts by members are becoming fewer and farther between, and the staff participation is just as sparse.  

…

[ Full reading ]
Comments: 4
New Poetry Prompt!
July 25th 2013, 2:21 pm by Jamie
Hi friends!

It's been a busy summer for us here at Poet Share, as the sunshine has called us away more than usual. We've posted a new poetry prompt today for you summery, adventurous types.

Let us know if you have any questions or concerns via PM if we're not on site. We hope to be back online fully staffed by mid-September!


Comments: 0
PS Birthday Couplet poem
Poet Share Birthday Couplet Poem
Our Birthday thread is fun for one and all
As couplets birth in rhyme to karma's call.

Help us celebrate by writing a poem:
Explain in verse why Poet Share is home.

We paint the world in shades and hues
From sonnets to our deft haikus.

We craft our poems into the night,
Then post them here for your delight.

Youth and wisdom mixed with differing quills,
from despair to love, touch your hearts we will.

Friendly comments uplift with their review
Each time that Poet Share opens anew.

Classical and mythical, and even brain teasers
stand right along side of great stories about Caesar.

Joyous to tragic, female or male,
Hearts we will touch with our writes without fail.

Had Shakespeare had Poet Share, what would he write?
"Romeo and Isobelle" or "Jamie's twelfth night"?

They're queuing for the loo, there's no one here:
"Hey Foggy, what have you put in the bloody beer"?

A humorous bent runs throughout the site:
Camaraderie bounds from morning to night.

Come the dawn, we're all still awake, writing
creatively, with thought and dreams igniting.

And when our muses deign to take their leave,
We read our friends and "plus" when they achieve.

In short, not even the "Fellowship of the rings"
Can compare to the fellowship, Poet Share Brings.

We must not forget the Depths with poetry that scares,
as well as lovely friendships that us poets love to share.

Caring friendships cross seas and social strata,
Strengthened by poems, which last ever after.


Statistics
We have 429 registered users
The newest registered user is Ratanaporn Karnchana

Our users have posted a total of 29148 messages in 4897 subjects

Latest topics
» Had We But Worlds Enough, And Time . . .

by Crimson.Dawn November 23rd 2013, 3:12 am

» Timber

by Daniel November 22nd 2013, 12:55 pm

» Women

by Myth September 5th 2013, 3:49 pm

» New Poetry Prompt!

by Jamie July 25th 2013, 2:21 pm

» Roses for Jay

by Jamie July 17th 2013, 10:07 am

» Forumotion Update

by Jamie June 14th 2013, 8:38 pm

» June 9th Poetry Prompt

by Jamie June 9th 2013, 11:50 am

» Finest of the Flavors

by Baseball Poetess June 4th 2013, 7:49 am

» Steve the Weave

by ABrokenHeart June 1st 2013, 11:16 pm

» I'VE GOT A LITTLE LIST

by Baseball Poetess May 31st 2013, 10:15 pm

» New Poetry Prompt

by Jamie May 31st 2013, 10:36 am

» The Beer is Free

by Jamie May 28th 2013, 8:49 am

» CD & Order of service from AJ's family

by ebonfire May 24th 2013, 9:34 am

» FORGET THE TOOTHBRUSH IF YOU MUST - BUT NOT THE DRESSING GOWN

by nortan223 May 23rd 2013, 12:22 pm

» RIP Apocalypticjay

by Beloved May 21st 2013, 7:50 pm

» Where We Go From Here

by Beloved May 21st 2013, 6:59 pm

» Changes that aren't really changes

by Jamie May 21st 2013, 11:00 am

» The Word Processors' Ode to Humanity

by Crimson.Dawn May 20th 2013, 9:55 pm

» Dr Fogg's Olympic Bid.

by nakedpoet May 10th 2013, 6:41 am

» The British Stiff Upper Lip.

by nortan223 May 2nd 2013, 4:05 pm

» Happy May!

by Jamie May 1st 2013, 12:18 pm

» THE CURE

by Dr Fogg April 26th 2013, 7:50 pm

» Poet Tribute: Seamus Heaney - April 25th - 30th

by ApocalypticJay April 25th 2013, 11:29 am

» Poet Tribute: Dr Seuss - April 19th - 24th

by Jahaliel April 23rd 2013, 4:39 am

» 10 Days Left!

by Jamie April 21st 2013, 12:38 pm

» Poet Tribute: W.B Yeats - April 13th - 18th

by ApocalypticJay April 21st 2013, 8:44 am

» "Bad" Plots

by nortan223 April 20th 2013, 4:09 pm

» Sweater or Not

by nortan223 April 20th 2013, 4:03 pm

» Today is Poem in your Pocket Day!

by Jamie April 18th 2013, 3:47 pm

» April 16th Trivia Question Posted

by Jamie April 16th 2013, 11:42 am

» FAQ: Notifications

by Jamie April 11th 2013, 9:47 am

» Poet Tribute: Federico García Lorca - April 7th - 12th

by Jahaliel April 11th 2013, 8:47 am

» Chinese Food

by nortan223 April 9th 2013, 5:04 pm

» Poetry Month Is Going Strong!

by Jamie April 9th 2013, 4:59 pm

» KEYBOARD CONFESSIONAL

by sicksoul April 9th 2013, 9:23 am


Who is online?
In total there are 2 users online :: 0 Registered, 0 Hidden and 2 Guests

None

Most users ever online was 81 on November 20th 2020, 5:54 pm