This is a living document that will be amended with time. Please offer any suggestions as replies to this thread. Thank you.
Hi and welcome to Poet Share! We've tried to make the site as easily navigable as we can but for new members it can all be a bit confusing, so this thread is meant as a guide for newer member to help you understand what there is to do at Poet Share, and how to get to it. We have a number of features that differ from most poetry sites. You can click on the embedded links below to find out more information about them.
We ask that you be sure to read our Terms of Service located in the blue scrollbox on the sidebar to the right in order to get a sense of the fellowship Poet Share means to achieve.
Let's look at the
Home
page. Clicking on our Header Image or on "Home" in the main menu will always return you to the Home page. This is different from our
"Front Page,"
which many sites refer to as a Portal page. The Front Page lists recent posts, recent news items, and other up to date information such as contests or featured items and events.
Below the Header Image is the main menu listed across the top of the screen which will take you to Home, the PS Calendar, the Gallery, etc. (We have also included these links in the QuickJump at the top right of the page.)
Of particular interest in the main menu are the "Profile" and "You have no new messages" links.
Profile
takes you to your Profile menu, where you can change your username, avatar, signature, or password, invite friends to Poet Share from Facebook, add on-site Friends, and more.
While the Friends/Foes feature is often overlooked, the Friends/Foes feature is interactive with the PM feature and can be of some use. For example, adding and accepting friends in your profile allows you to select them from the "Friends" dropdown when writing private messages.

The "
You have x new messages
" link takes you to your inbox. Explore your inbox, sentbox (they've been read), outbox (sent but still unread), and saved messages folders by clicking their names.
The rest of the main menu is fairly self-explanatory, so let's move on to the boxes that run down the front page on your right which will help you navigate Poet Share's boards, beginning with the QuickJump at the top. The second box down contains a link to our latest Featured Poem. Featured Poems are nominated by members and selected by Admin, so remember to PM your nomination to an Admin! If you see a poem you think we should feature, send a PM to any staff member and they'll let us know! You cannot nominate your own writing, sorry. There is a lot more helpful information in the side boxes, including extra smileys, the Fun Stuff board where members play games, the latest News, and the latest Posts. Click around to explore them.
As you look down the sideboxes on the right, you should notice a little blue box with white writing that says "Chatbox." This embedded chatbox will follow you around the site and is embedded in (I think) every page. You may need to disable popup blockers to use this chat.
Away from the sideboxes now and back to the top of the main page, there are three "view" links which are easily overlooked, but very handy once you know that they're there:
Continuing down the front page, we come to
The Hot List
. The Hot List contains four special boards outside of the normal Poetry and Non-Poetry categories (click to go to the respective boards):
Click here to read about how member blogs work.
Special Contests will vary in duration and frequency. In the past we have done Limerick Competitions, Valentines Day, our Annual Poet Scare, Member's Choice, and more.
Click here for the Special Contests Archives to read some past entrants and winning poems!
Click here to read about our Poetry Prompts, including Brain Box Prompts
.
Member Sponsored Prompts, aka Member Challenges, are poetry or writing prompts sponsored by you, the individual member. Rules for each challenge should be clearly posted in each thread. Each member may sponsor up to three challenges at a time, and is responsible for judging their own challenges. If you sponsor a challenge, you may request creation of a profile badge to award a winner, or you may gift them with a signature pic or other prize if you so choose. All challenges must adhere to our Terms of Service.
Next we have the news board, where we announce new Poetry Prompts and our current selected Featured Poem. We will also use this board to announce Special Contests or other Announcements. Posts in the News Board will be posted to our Twitter Feed, so follow us @poetshare for the latest PS happenings.
Continuing down the front page, the next Category is the
Poetry Category
, where members may post their own original poetry. Please remember to also reply to 2 other poems within the same board as each new poem you post.
Within individual boards, any threads or poems that you have already commented on will have a little blue circle next to them like this:
Within individual threads, you can also follow the breadcrumb links at the tops and bottoms of most pages. Breadcrumbs look like this and contain multiple clickable links:
In the above example, the first is the link to the front page, the 2nd is to the category, in this case Poet Share FAQS, and the third link is to the board itself, FAQS and Terms of Service.
Also within individual threads, the
button will actually start a new thread in the same board. You can move to the previous or next threads in a board by clicking the small arrows located at the bottom right or top right of any thread.

Share/Action links:
When reading a thread, you have access to these links located at the top right of the page.
Clicking "Share" will enable the following popup box, which will let you share what you're reading through your favorite social medium, e.g. Facebook, Twitter, Wordpress, etc. Click hte "More" link to display even more social media vehicles with which you may share the post: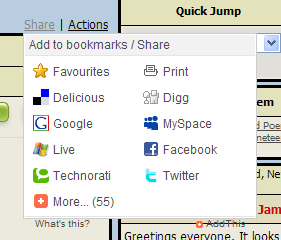 Other Notes
:
-Poet Share does not have an embedded spell check. Though many browsers and many forum hosts offer spellcheck, forumotion does not at this time.
-Drafts: for some reason the Drafts feature is only available for replies, not new topics. This means you can save a reply into your Drafts folder (available in your profile page) and come back to it later. We have suggested forumotion enable the drafts feature for new topics as well.
-Backing up your writing: we have
a mirror forum set up on Zetaboards for current PS Members ONLY
specifically for posting your poetry as a backup, in the unlikely event of a catastrophic server crash. While our TOS does say to keep another copy of your work, we thought it would be helpful to also have a place to let you back up your work online. You would have to register to use the
Zetaboards site
, but only initially, and thereafter you may post your poetry on that site as another online backup. Comments are not required on the backup site, so if you choose to do so, you are more than welcome back up your writing there.